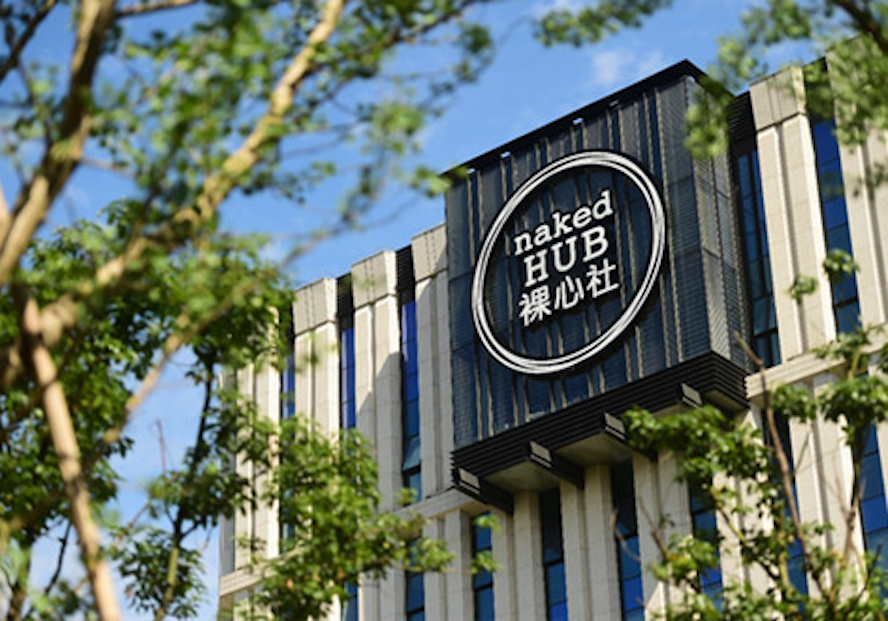 Co-working space operators WeWork China and naked Hub today announced a deal to join forces to build a community with one million members by the end of 2021, in the biggest deal for WeWork and the biggest deal for the co-working sector in Asia.
WeWork co-founder Adam Neumann posted an announcement (read below) on WeWork's blog, saying that "We are joining forces with naked Hub…Together we will have a community of 80,000 people this year, and it will grow to one million by the end of 2021." That is an ambitious goal, as WeWork currently has around 200,000 member cross 212 locations in 18 countries.
Naked Hub also sent a notification to all of its 10,000 members that the two companies are "joining forces". Naked Hub founder Grant Horsfield and Adam Neumann addressed employees in Shanghai today as well. Gaw Capital, a Hong Kong-based private real estate investment firm that led naked Hub's series B round, said in a statement that it is "happy to see naked Hub begin a new chapter in its story by teaming up with industry giant WeWork to further fulfil its mission."
The companies did not disclose financial details of the deal, but as China Money Network first broke the news yesterday, WeWork China is acquiring naked Hub for US$400 million in cash and WeWork shares, sources close to the deal said.
The deal will allow WeWork China to quickly scale and become a dominant player in Asia. It is also part of an industry consolidation that has been intensifying in the co-working space, especially in China. Naked Hub itself announced an agreement to acquire a 70% stake in Gravity, a co-working space operator in Australia, after an earlier attempt to acquire Asian co-working company JustCo failed to materialize. There have also been a number of mergers among local Chinese co-working companies during the past couple of years.
In January, WeWork China raised US$500 million from Chinese private equity firm Hony Capital and Japan's SoftBank Group Corp., making it the best funded co-working company by a large margin in Asia. The biggest local Chinese co-working operator, Ucommune, was only able to raise around half of what WeWork China raised.
For naked Hub, a combination with the world's biggest co-working company WeWork, which is valued at US$20 billion, is perhaps the best move. As the co-working business needs heavy capital investment for renovations and signing up long-term leases, a company without a deep pocket cannot compete in this fierce market place.
Naked Hub did not close a series C round it planned to complete last year, after raising US$33 million from Gaw Capital in November 2016. There are at least half a dozen Chinese co-working start-ups that have secured more funding than naked Hub.
Naked Hub currently has 10,000 members across 24 locations who use the company's flexible office space solution including hot desks and private offices. WeWork opened its first location in China in Shanghai in 2016, and also currently have 10,000 members across a dozen locations in the country.
By the end of this year, the combined company will have over 80,000 member in Greater China, and is aiming to grow that to one million by 2021. That would equal to a 12.5 times growth over a three-year period.
Below is the post published by WeWork co-founder Adam Neumann:

WeWork + naked Hub

by Adam Neumann

WeWork was created to provide entrepreneurs and small companies with the space, community, and services necessary for them to create their life's work. Over the past eight years, we have reinvented the modern office space and the ways in which people approach work every day for creators and mission-based companies of all sizes.

In 2017, we launched Powered by We, an operating system that brings our design, tech, and culture directly to companies. Powered by We leverages WeWork's expertise to help companies find, build, and operate their own space while providing services that strengthen culture and employee experience.

As we look to the future, we are examining more broadly the ways individuals interact and connect with one another beyond the confines of buildings to include cities as well. We are reimagining the way people work and live and looking toward creating an operating system for life.

Having seen WeWork grow and knowing our potential, one thing I am sure of is that our ability to build community is more important now than ever. We need a fresh approach to how we think about space and how we utilize it as a force for good. Building community can have fundamental benefits for city populations, and its potential takes us well beyond walls and buildings.

At the center of it all is the power of human connections. And making a connection with another person is about treating them as they would like to be treated. The golden rule.

In that regard, good hospitality, technology, and design are the pillars of the future.

That's why we are joining forces with naked Hub, which is part of naked Group, a leading hospitality, design, technology, and lifestyle brand that was founded in China in 2007 and has hosted over 1 million guests from China and around the world. naked Hub launched in 2015 and provides 10,000 members across 24 locations with the community and services they need to make a life, not just a living. Founders Grant Horsfield and Delphine Yip-Horsfield and the entire naked team have built an amazing business on the back of great hospitality.

When WeWork opened our first location in Shanghai in 2016, our goal was to give Chinese businesses of all sizes the community, culture, and services to start and scale their operations and provide an environment that promotes innovation. Today, we have 10,000 members across more than a dozen locations. By the end of this year we'll serve more than 40,000 across 40 locations in Greater China. Together we will have a community of 80,000 people this year, and it will grow to 1 million by the end of 2021.

In naked Hub, we have found an equal who shares our thinking about the importance of space, community, design, culture, and technology. Together, I believe we will have a profound impact in helping businesses across China grow, scale, and succeed.