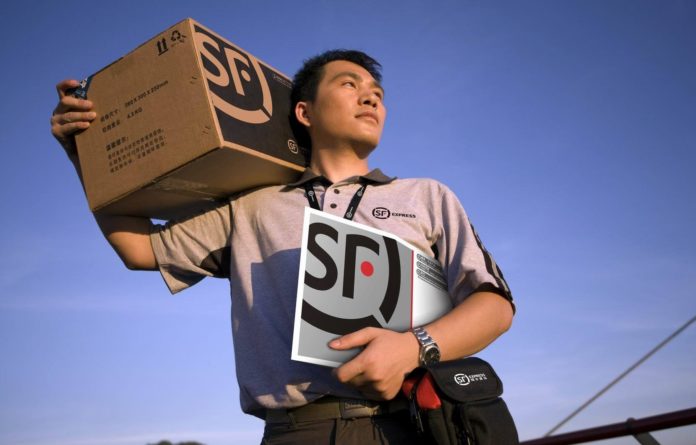 Chinese express delivery services provider S.F. Holding, the country's second largest courier after China Post, has sealed a 10-year strategic partnership with German peer Deutsche Post DHL Group (DHL) for S.F. to take over DHL's supply chain operations in China, according to a joint statement released by the two companies on October 26.
As part of this strategic deal, DHL will receive an upfront payment of RMB5.5 billion (US$792 million) and a revenue-based partnership fee over the next ten years. DHL's supply chain China business will be incorporated into S.F. and operate as a co-branded organization, said the statement.
The partnership allows S.F. to have access to DHL's supply chain services, management expertise, transportation and warehousing technology.
Leveraging S.F.'s domestic infrastructure, distribution network and local customers base, the partnership will also allow DHL to continue to participate in the fast-growing Chinese supply chain market.
DHL stated that the transaction only involves its supply chain business in Mainland China, Hong Kong and Macau. It has no bearing on the company's business activities in international express, freight transport and e-commerce logistics solutions in China.
The partnership between the duo came at a time when China's parcel delivery market is become ever more competitive and challenging. According to official data conducted by State Post Bureau, the Chinese parcel delivery market was valued at about RMB976 billion (US$140.5 billion) in 2017.
Chinese e-commerce giant JD.com, Alibaba's logistics unit Cainiao Network, and domestic parcel delivery firms ZTO Express, STO Express and YTO Express are all vying for for market share in this space.
But as competition heightened, it is becoming more challenging to make money. Profits at S.F. dropped 16.9% to RMB3.03 billion (US$436 million) for the first three quarters in 2018, despite revenues increasing 31.2% to RMB65.4 billion (US$9.41 billion).
Frank Appel, chief executive officer of DHL, said that the partnership targets to create a logistics platform to meet the need for an end-to-end supply chain provider in China.
"This agreement will help us achieve our vision to grow further internationally," said Dick Wong, chairman of S.F. Holding in the statement. "S.F. Holding has been actively expanding its business-to-business (B2B) capabilities and pursuing different strategic partnerships to grow S.F. Holding into a truly integrated logistics solutions provider."
Founded in 1993, Guangdong-based S.F. Holding provides its customers with integrated logistics services including transportation, warehousing management, sales forecasting, and data analytics to settlement and cash management, according to the company's website.