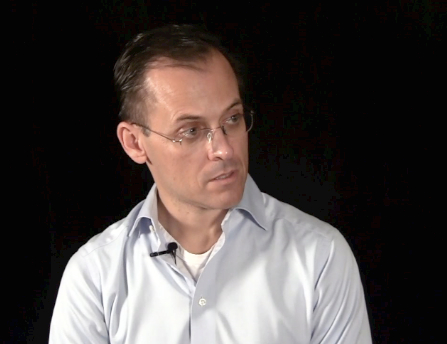 In this episode of China Money Podcast, guest Fritz Demopoulos, founder of Queen's Road Capital and co-founder of Qunar Inc, speaks with our host Nina Xiang.
He explains his investment thesis of investing in "platforms", who he sees as the future disrupters of the established Chinese Internet giants, and what he learned from a failed start-up that he invested in.
Don't forget to subscribe to China Money Podcast for free in the iTunes store, or subscribe to China Money Network weekly newsletters.
You can also subscribe to China Money Podcast's Youtube channel or Youku channel.
Q: Last time when we talked, you forecasted industry consolidations in China's tech space. This year, it really happened in a large scale with multiple major mergers. What are the driving forces behind these deals?
A: First of all, some large conglomerates decided to "buy", instead of "make" certain businesses on their own. Historically, a lot of Chinese companies have decided to make and build things themselves. Moving forward, we will see more buying as they realize they can't do everything.
Also, it used to be that every Chinese technology company was fighting each other for a long time. But now people realize you don't have to fight to win. You can actually partner and combine with others to win.
Many experienced entrepreneurs in China has developed an acute sense of responsibility to shareholders, a stronger sense of managing different viewpoints, which is leading to some of these deals as well. These deals should have happened earlier, but never did because of interpersonal issues.
Q: The mergers will continue?
A: I think so. The cost of capital will continue to inch up. Valuation will probably be flat except for one or two super hot companies. Entrepreneurs may have to think twice before they burn a lot of money on margin initiatives. They need to be disciplined on how they achieve their objectives.

Q: Which sectors will this wave of merger deals impact?
A: It's going to be in every sector. One joke goes like this: If there are four or five competitors in a category, there will be a hundred competitors in China. Naturally, this will lead to more combinations. Just to name a few, online gaming, medical technology, financial technology, and P2P lending could all see more merger deals.

Q: Let's focus on the online travel sector, an area where you have had lots of experience. Queen's Road Capital has backed two start-ups in online travel, Tripping.com and GetYourGuide. What is your investment thesis here?
A: Both start-ups are in two of the hottest categories of the travel business: vacation rentals and local activities. Tripping.com aggregates vacation home rentals globally. It works like a Qunar for Airbnb type of accommodation offerings.
Most of the travel distribution companies today focus on air tickets and hotels, but there is another massive category where travelers spend a lot of money, which are local tours and activities, such as buying a ticket to the Eiffel Tower or the Colosseum. GetYourGuide aggregates the information and deliver to consumers in a timely fashion.
There are three categories in the travel business that offer the best opportunities: China, vacation rentals and local activities. These two start-ups are in the most promising sectors.
Q: What are the challenges you see in these two start-ups trying to scale up?

A: On the demand side, getting customers to use your services is always a challenge. The travel sector is very competitive. Many companies are fighting for the same customers, so it's very expensive to acquire users.
On the supply side, working with this disparate pool of homeowners and local activity providers is also a challenge. For example, GetYourGuide are dealing with thousands of local activity providers. It must make sure the services are consistent with its brand and deliver availability information to users in a timely fashion. The aggregation process of a very fragmented market can be challenging.
Q: How are they acquiring users?
A: They do search engine optimization, digital marketing, offline campaigns, lots of public relations, as well as partnerships. GetYourGuide has a partnership with Ctrip, for example, where they collaborates to provide local activity services to Ctrip users.
Both companies are in investment mode, which means we are willing to invest our capital to grow the business. That naturally means they might not be profitable, but I believe they offer compelling values to consumers.
Q: You mentioned three segments: China, vacation rentals and local activities. Who do you think are the clear leaders in these sectors in China?
A: Obviously, the merged Ctrip-Qunar entity is a clear-cut leader in the massive Chinese travel opportunity, both domestically and internationally.
One of the key trends in travel is the rise of outbound tourism in China. Already, Chinese travelers are the largest group of travelers globally. They will only grow larger, and Ctrip-Qunar is capitalizing on that.
For vacation rentals in China, it is very interesting but may not grow as big as its Western peers. Perhaps it will catch up in the future.
Another interesting trend is fragmentation of interests, which means travelers don't want to do what their neighbors did. That gives opportunities to someone like GetYourGuide.
Q: You've also invested in online gaming start-ups, including a Chinese 3D gaming platform ECitySky and Indonesia's mobile game distribution company maingames. Last week, a venture investor told me he doesn't like to invest in online gaming companies because it is very much driven by "hit" games and it's difficult to maintain a pipeline of "hits." You agree?
A: Well, you can invest in games or gaming platforms. I thinking investing in gaming platforms makes a lot of sense. Every company I have ever invested in is actually a platform company. Both ECitySky and maingames distributes third-party games on their platforms rather than making their own games.
Another gaming company I'm involved in is Asian Innovations, which creates the Pengpeng chat platform with icebreaker and other casual games, HTML5 mostly, embedded in its platform.
These platforms are not exposed to any one particular games, but aggregates and distributes various games. So I would argue that within the gaming space, there are a host of opportunities. One just needs to be a bit intelligent about where the opportunities are. They tend to be on the platform distribution side, less on the individual game side.
Q: What are some trends you see in the online gaming sector?