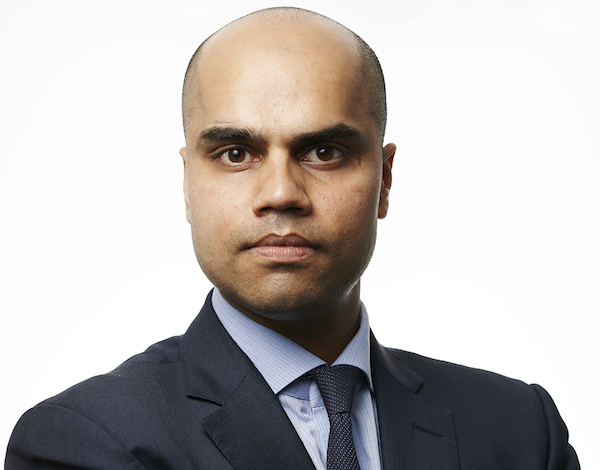 In this episode of China Money Podcast, guest Sachin Doshi, managing director and head of private real estate investments Asia Pacific at Dutch pension fund asset manager APG, speaks to our host Nina Xiang about investing in China's private real estate sector.
Doshi shared stories behind APG's big bet in Chinese logistics real estate company e-Shang Redwood and its investment in Shanghai commercial property firm Chongbang. He said senior housing is a sector that the €430 billion-under-management institution may invest in China in the future.
Don't forget to subscribe to China Money Podcast for free in the iTunes store, or subscribe to China Money Network weekly newsletters.
You can also subscribe to China Money Podcast's Youtube channel or Youku channel.
Q: How has APG's Asian investments changed over the past three years since I last spoke with your colleagues?

A: Our fundamental investment strategy has changed significantly in the past three years. Three years ago, a lot of our investments were focused on investing in funds or programs on a pan-Asian basis.
We have moved away from the co-mingled pan-Asian strategies and moved towards country and city specific investment platforms with local partners in each of our key markets.
Q: What are some main drivers for this change?
A: As long-term investors, we want to build scale in our investments. When you go into a co-mingled multi-sector or multi-country strategy, you don't necessarily get the best local partners in each of the specific countries or sectors you invest in.
Our current approach enables us to get access to the best local partners, and makes it easier for us to commit more and repeated capital to build scale.
Q: What is the asset allocation of APG's Asian investment portfolio now?
A: Real estate is about 9% of our global total asset-under-management (AUM), and about a quarter of that is in Asia Pacific.
Our total AUM in Asia Pacific real estate is around €8 billion, about half of that is in private real estate investments.
Q: I remember the Asia Pacific real estate AUM was €6 billion three years ago, and the private real estate investments took a smaller share of the total?

A: Yes, we've seen a lot of growth, especially on the private real estate side, partially because the net asset value of our exiting investments has grown, and we've struck new partnerships in order to achieve scale.
Q: When you look across the Asia Pacific real estate landscape, where do you see the best investment opportunities right now?
A: Australia and China are obviously very important to us. We are increasingly allocating capital into India as well, but India is never going to be a big part of our portfolio.
We also have exposure to other places like Hong Kong, Singapore and South Korea.
Q: In China, APG has made big bets on logistics real estate with investment in e-Shang Redwood, as well as Shanghai commercial real estate firm Chongbang. How did you single out these two segments?
A: We wanted to invest in sectors that will benefit from China's economic transition from an investment-led model to one focused on consumers. Retail and e-commerce will continue to grow over a long period of time, and that's why we invested in e-Shanghai Redwood.
The investment in Chongbang is a much more targeted strategy. We believe Shanghai will continue to become a major metropolitan urban center in the world, and retail commercial is critical in building a city.
Chongbang creates malls, not really as malls, but as indoor and outdoor space that attract people and make them want to spend the whole day there.
Q: I've been to their Life Hub Jinqiao in Pudong, Shanghai. Share some details on how the deal came together for APG and Ivanhoe Cambridge to lead a US$920 million investment in Chongbang last June?
A: We have been speaking to Chongbang for three years. Initially, we couldn't put together a structure that worked for both parties. But over the years, we kept close contact and slowly our views on the company's future growth became aligned.
One thing we really liked about Chongbang is its focus on quality. Rather than building 50 projects, they were very selective. They picked low base and high growth regions to build their malls. This is a strategy we like very much.
Q: e-Shang Redwood is reportedly planning to raise US$1 billion in a Hong Kong IPO later this year. Will APG exit then?
A: As a long-term investor, we are very happy to build these companies up. An IPO could be a potential exit, but it's not necessarily something that we work toward constantly.
If a great opportunity does arise, we would take that opportunity. But we are happy to have long-term positions in these companies in private structures. Our ultimate goal is to own the best real estate in each of the market we operate in.
Q: APG is also an early and repeat investor in what is now e-Shang Redwood, a logistics real estate firm that has achieved rapid growth in the past few years. How did that deal come together?
A: When we reviewed our options on how we wanted to approach the Chinese logistics sector, one way was obviously to partner with the big players such as GLP, Prologis and Goodman, but they already had capital partners.
With e-Shang, we were able to get direct access to an experienced management team. We invested US$650 million in the company itself and then committed to a Korean logistics joint venture fund with the company.
Overall, we have over US$1 billion committed to e-Shanghai Redwood across the management company and the joint venture.
Q: In 2013, Goldman Sachs agreed to extend a US$120 million pre-IPO loan to e-Shang. But the company is planning an IPO later this year. Was the IPO plan delayed?
A: Positioned as a pan-Asian logistics real estate company, e-Shang embarked on a few key growth projects over the past few years, including its Korean joint venture and merger with Redwood.
We think a company with significant presence in China, Japan, Singapore, Korea and potentially other markets is a much better value proposition (in an IPO).
Q: APG has stayed away from the residential and office market in China. Do you continue to dislike these segments?
A: We do like certain office assets in Shanghai and Beijing. Particular in Shanghai, there have been a lot of transactions. We see office as a very cyclical asset class with considerable amount of supply coming into Shanghai. But if the right opportunities arise at the right price, we would be open to it.
As to residential, the turn of capital is very quick. As a long-term investor, we are not necessarily looking for 18 to 24 months turn on capital. There are also great policy risks in the residential market.
Q: Last time when I spoke with your colleagues, car parks were mentioned as a potential market APG would get into. But no deals so far?
A: We've looked and have made some investments. But it's very difficult to build scale in this segment.
The capital required in each deal is relatively small. Increasingly, it has become harder to find land in cities to build car parks. There are usually better alternatives in using the land.
Over time, we have learned that this is perhaps not a sector that we will have a large position.
Q: What's in your deal pipeline now?
A: We are looking at selective offices in Shanghai and Beijing, but nothing imminent in the pipeline.
Some other sectors we are educating ourselves on include senior housing and the healthcare space. We believe the macro fundamentals support such strategies.
Q: Interesting. Senior housing is a very nascent market in China.
A: Yes, it is. It's not something that we will commit capital to in the next 12 to 18 months.
Q: With the RMB expected to depreciate further, how are you managing the currency risks with your investments in China?
A: The currency risk is just one piece of the overall risk management puzzle. It is certainly a risk that we have to underwrite, but it has also created a very good ecosystem for businesses to succeed.
We don't hedge the RMB as we speak. We try to take local currency debt in our local ventures to provide a bit of natural hedge on our equity.
Another thing is that our capital usually goes in over a period of time, and comes out over a period of time. So we get sort of an averaging effect on currencies.
Q: How much leverage do you use in your investments?
A: We look for underlying real estate returns, rather than financially engineered returns through leverage. In most programs, our leverage is well below 40% on a loan-to-value basis. And that's a strategy we will continue to have.
Q: For APG's Asia Pacific private real estate portfolio, what return have you achieved?
A: Over the last three years and the last five years, we've achieved over 14% internal rate of return (IRR) annually. If you look at the longer term, we've recorded annual IRR north of 10% since 2007 when we established a presence in Asia.
About Sachin Doshi:
Sachin Doshi serves as the Head of Private Real Estate Investments at APG Asset Management Asia, Ltd., a subsidiary of APG in the Netherlands. Doshi is responsible for all aspects of APG's private real estate investment in Asia. Doshi joined APG from Merrill Lynch in 2011.