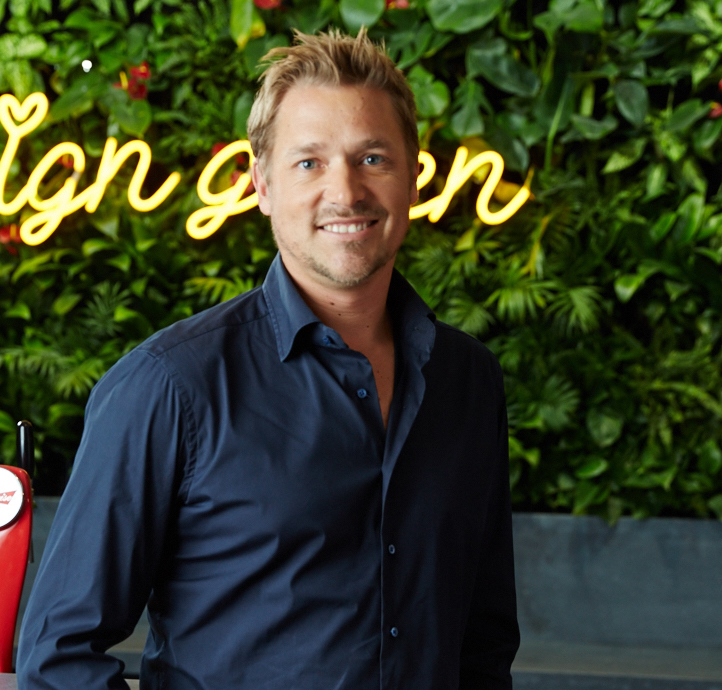 Grant Horsfield, founder of Shanghai-based resort and co-working space operator naked Group, always sees things differently.
When others saw dilapidated farm houses in China's countryside, he envisioned seclusive luxury resorts. Now, a year after entering China's co-working space, the South African entrepreneur is convinced that the future of his multi-pronged hospitality and property business lies in fast execution.
The tomorrow of the co-working business model is moving HSBC or Coca-Cola from their "ugly offices" to much cooler and lively spaces, such as his own shared office unit naked Hub, Horsfield said at the annual MIPIM Asia Summit in Hong Kong last week, not hiding his disdain for "cubicles" and "grey boxes" commonly seen at rigid corporate headquarters.
Co-working should not just be offering cheap work environments for start-ups, a concept all Chinese co-working space providers hold dear, Horsfield argued. After all, start-ups take up only a small share of the overall office market.
The founder of popular eco-friendly resort naked Stables seems to have struck a chord with some big corporations already. Chinese logistics firm Debang has taken up some space at naked Hub in Shanghai. And at a panel discussion at the MIPIM Summit, a gentleman from a big insurance company asked how to better utilize a 1,500-cubicle office that sits empty half of the day.
New York-headquartered co-working pioneer WeWork Cos., which raised nearly half a billion led by China's Hony Capital and Legend Holdings in March, is perhaps one step ahead. It has secured many multinationals including Microsoft, HSBC, Sprint, Bank of America, Salesforce, Dell and General Motors in its locations worldwide.
But when it comes to the Chinese market, Horsfield plans to outpace WeWork by adding more locations much faster. His naked Hub will have 36 locations by the end of 2017, while WeWork's current blueprint calls for adding three more in China next year, in addition to its current two locations.
Even though Horsfield disagrees with his Chinese competitors on co-working's future direction, he is very much on the same page in terms of expansion, because he understands "China speed" is essential in defining success and failure in the country.
UrWork, China's biggest co-working start-up, is planning to add 50 locations next year, in addition to 36 it would have by the end of this month. Kr Space wants to add 60 next year to its current portfolio of 28. Others including Fountown, 5Lmeet and Nash Work are opening hundreds more throughout China.
With six new resorts planned in Moganshan, Suzhou, Shaoxing, Chengdu and Chongqing, in addition to rapid growth in the naked Hub business – which just raised US$33 million led by Hong Kong-based Gaw Capital – naked Group has now transformed itself into a powerful boutique player moving at breakneck speed. This behind-the-scenes frenetic pace contrasts with the idyllic feel its resorts convey to guests.
An anonymous industry insider said that he is concerned that the company might be growing too quickly, a mistake suffered by many companies. Horsfield brushed off such concerns, saying "We just enjoy what we do."
And Horsfield not only pours soul and energy into his projects, he literally puts his heart into his work. During the early days of the company, he suffered a mild heart attack amid a cash squeeze after the global financial crisis.
To learn more, read on to a Q&A of our conversation. Don't forget to subscribe to China Money Podcast for free in the iTunes store, or subscribe to China Money Network weekly newsletters.
You can also subscribe to China Money Podcast's Youtube channel or Youku channel.
Q: Congratulations on securing funding from Gaw Capital. What's next for naked Hubs?
A: We have a plan to grow across Asia and give our members more access to more locations. We also want to innovate in our business to make it about more than just a co-working space by incorporating physical and mental well-being.
We will have up to 12 spaces opened by the end of this year. We are opening another 24 next year, so we should have around 36 locations in total by the end of next year.
Q: That's an aggressive expansion plan?
A: It is, but if you do things in China, you have to do it at a certain speed and scale. China is like a behemoth that runs really fast. To stay relevant, you need to develop your business at that kind of speed.