Q: But naked did not expand rapidly initially until 2015, right?
A: Resorts take a long time to build. The one we are opening now, naked Castle, has taken me five years to build. It was around 2013 when we started to push the growth of the resort business by signing a number of new resorts. But you don't see it come to the market immediately.
In 2015, we decided to enter the co-working space. We were just testing the market by opening one space and people loved it.
Q: Was it driven by client demand or you saw how co-working was going to take off in China?
A: Both. We built it in three months, and opened in September 2015, earlier than WeWork in China (WeWork opened in June 2016). Seeing how people loved it was instant satisfaction.
Q: Are you concerned about how fast the company is expanding?
A: Not at all. I deeply believe that office space is revolutionizing. There will be a natural migration from cubicles to cooler, shared office space solutions. There are billions of square meters of office space in the world. The biggest concern I have is educating the market to make them understand what we offer.
Q: There are so many Chinese co-working space start-ups, the biggest is UrWork, founded by former Vanke vice chairman Mao Daqing. Do you feel the market is getting too crowded?
A: None of the Chinese competitors are doing what we are doing. UrWork, for example, is creating budget hotel-like cheap office space. Because people don't have garages in China, UrWork is providing "garage space" for entreprenuer types.
I don't believe that's the future of co-working. The future is moving HSBC or Coca-Cola from their ugly office to a much cooler space. Douban Logistics, for example, moved to naked Hub. That's what we're talking about.
Q: What will happen to the many Chinese co-working space start-ups then?
A: There may be a consolidation. UrWork is already trying to consolidate space in Beijing. One company just closed in Beijing.
We just opened the most expensive co-working location in China in Xintiandi. We are seeing huge demand for space at a much higher price point. We are around five times more expensive than UrWork's space.
Q: Who do you consider as your key competitors? WeWork?
A: No, I don't think WeWork will be able to grow fast enough in China. They will always be an important player to set the quality and standard, and perhaps push us to be better.
I give credit to Soho 3Q. Their space in Beijing is phenonemal, but unfortunately they don't care about the community. Soho China's CEO Zhang Xin openly says that we are not necessarily about the community, so they are not creating a true co-working experience.
I truly believe that the future of co-working office is migrating traditional office into cooler spaces, not just for start-ups.
Q: You are confident that you can fill up all the nearly 40 new locations you are opening next year?
A: If I can build 15 locations at the same time, I would fill them too. I just can't build them as fast.
Q: The shared economy has faced regulatory hurdles. What type of regulatory backlash will the industry likely face?
A: It's never good to speculate what's going to happen in China (in terms of regulation). It's still a grey area today. The regulators are not sure how to manage this phenonmenon. But we are already working with the Shanghai government on how to register companies and how to overcome some hurdles.
I don't necessarily see a regulatory backlash like Uber, Didi or Airbnb had. Doing business in China, you face a hurdle everyday and you must overcome it today.
Q: Coming back to your expansion plans. You raised US$33 million for naked Hub. Did you raise outside funding for other parts of the group, including the resorts, the discovery center and cruise operations?
A: No. We haven't.
Q: What do you envision as the future of naked brand and the group of companies?
A: We really care about brand, and want Luoxin (the Chinese name of the naked brand) to be synonymous with quality, experience and lifestyle. We want Luoxin to be a powerful brand in China and Asia.
The resort business is generating significant cash flows. We have eight resorts that will be open in the next few years. Each is very challenging in China, especially in the countryside of China. I'm now an expert in it, 11 years later.
There may be an opportunity for the hub business to seek an IPO. That's a real possibility. There may be opportunities for certain funds to invest in our resort businesses, or even for us to consider partnering with some bigger groups. We don't think about it everyday. Right now we just enjoy what we are doing.
Q: Looking back, what is the darkest moment while you tried to build the company?
A: The darkest moment was just after the global financial crisis. I was three-quarters away from finishing building naked Stables. A Chinese bank withdrew on a RMB300 million loan. It was around ten days before Chinese New Year. That money was supposed to pay contractors and everything else. I was in a lot of trouble, and it was scary. I actually had a mild heart attack.
Luckily, we found some institutions willing to finance us for the short term with exorbitant interests. But we made it through. We never sold equity. That was important to me.

About Grant Horsfield: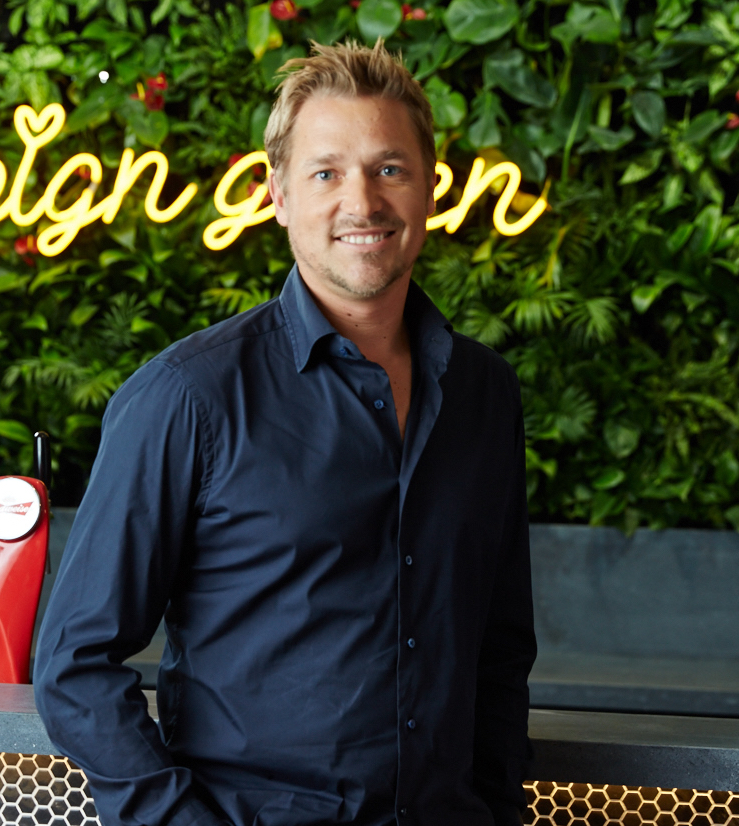 Grant Horsfield is the founder and chairman of Shanghai-based naked Group. Horsfield moved to China in 2005, and launched his first resort in 2007. Today, naked operates resorts, co-working spaces and offer other lifestyle products in China and plans to expand into other parts of Asia.