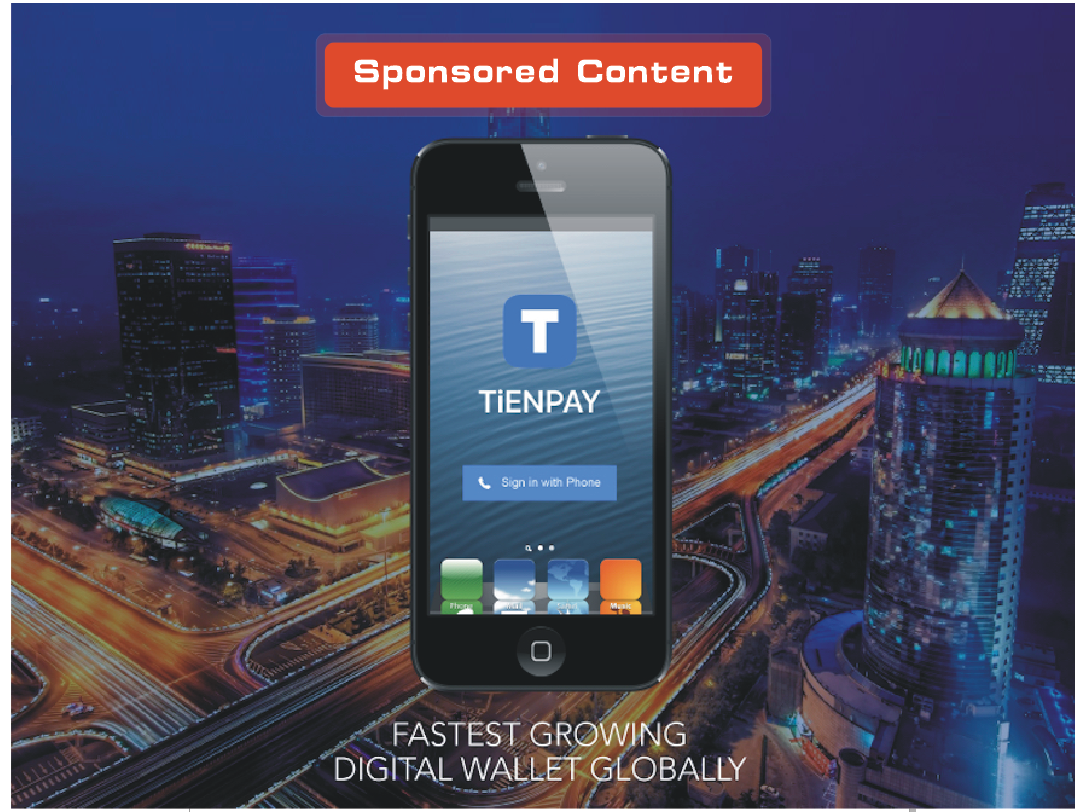 This Podcast Is Sponsored By TiENPAY
TiENPAY is not your average fintech start-up. With the company's origins dating back to the first mobile wallet launched in Australia in 1996, the Hong Kong-based firm has a grand dream: to become the number one global mobile wallet clearance and settlement platform.
Founded by Singaporean entrepreneur and finance veteran William Tien, the company integrates a mobile wallet app, a SaaS (Software-as-a-Service) currency exchange (with Bitcoin and other cryto-currency capabilities), and a digital asset pool that includes intellectual property rights to dozens of web films it plans to produce.
"The difference of our wallet is that we focus on clearance and settlement, a less tapped market segment," said William Tien, founder and CEO of TiENPAY. "I've spent years traveling around the world and always had difficulty conducting currency conversions and cross-border transactions. We should have something that is universal so that people don't need to wait for two weeks before receiving money."
TiENPAY Founder William Tien Speaks To China Money Network:
TiENPAY, with its Shenzhen office housed in a Tencent Incubator, has the capacity to connect to more than 350 payment gateway or aggregators like Visa, MasterCard, China UnionPay, WeChat and Alipay. The company's services are currently set to cover the United States, U.K., Australia, Singapore, Hong Kong, Cambodia, Russia and India. Once fully operational, users can enjoy instant money transfers across country borders and convert currencies among major fiat money, bitcoin and other forms of digital currencies.
TiENPAY's innovative digital wallet conducted its first transaction trial in January between an account in China and another in Australia via China UnionPay. The mobile wallet app is to formally launch on Wednesday, and users will be able to download and sign up for its unique service offerings.
The key to TiENPAY's systems is a network of financial institutions located in each of its operating countries to allow a seamless transaction experience for users. "Over the last four and half years, we have gone through a lot of regulatory work, and I'm telling you, it's very tough," Tien said.
But the future looks promising. The company wants to expand to 35 countries in five years, and to bring in significant profits in the next five years. To achieve that, TiENPAY has come up with a creative idea: to produce 20 web films in China and Asia with a total investment of US$10 million. The first movie, a comedy on the subject of the mobile wallet, with episodes involving a bank robbery and kidnapping, is commencing production this week.
You can listen to our conversation above or read a Q&A below. Don't forget to subscribe to China Money Podcast for free in the iTunes store, or subscribe to China Money Network weekly newsletters. You can also subscribe to China Money Podcast's Youtube channel or Youku channel.
Q: TiENPAY is such a unique product, how did you initially come up with the idea to start a company like this?
A: I have spent years traveling around the world doing projects overseas and have always had problems of adapting to the local environment. I thought that I should have something that is universal and I don't need to wait for two weeks before I can get the money, or even for one month if in Russia. So the idea actually started back in 1996 in Australia, and we want to create an inter-operative mobile wallet that everybody can use.
Q: What do you think sets TiENPAY apart from other types of mobile wallets?
A: What makes us special is that we are inter-operative. The question is do I have a wallet that I can use in China, in Africa and in the U.S.? TiENPAY is the answer. The most important thing is that this kind of pavement is instantaneous. You don't need to wait for three days for a bank clearance or go to the bank to remit the money.
Q: How are you able to provide this transaction services across borders?
A: Actually, we started our mobile wallet back in 1996 when nobody was talking about wallets. At that time we have been coding the wallet. Over the last four and half years, we have gone through a lot of regulatory work, and I'm telling you, it's very tough. But we are now going to cover eight countries, and we will expand to 35 countries in five years.
Q: The TiENPAY mobile app is going to be launched soon?
A: Yes, we will have a live transaction during a celebration ceremony on the 26th of July in Shenzhen, but the product is going to be released to the market close to the end of August.
For the longer future, we are focused on acting as a settlement clearance wallet. We want to be the top global mobile wallet clearance and settlement platform. Now we have set up in eight countries, Australia, Singapore, Hong Kong, and also via a Cambodian partnership, Russian partner and Indian partner. We also have our own company in the U.K. and U.S.
Q: Now let's talk about the fun part. TiENPAY is actually going to make a movie on the topic of wallet?
A: I know a film director in Beijing, and one day I gave him a call in the middle of the night, asking him if I were to produce a commercial to broadcast on CCTV to promote TiENPAY, how much would that cost. He told me it's going to be RMB1 million to produce the commercial but RMB20 million to broadcast.
But he also said that online movies were becoming very popular in China, as everybody is watching movies on their phone. We could perhaps produce a movie to (achieve the same purpose). After talking with some of the digital content contributors, we found that they actually lack good content. That's how this wallet movie came into the picture.
Q: Lastly you have been an entrepreneur for a long time, could you share some of your career highlights with us?
A: I think the best part was when I got my first IT project in Australia back in 1999. Prior to this, I was involved in radio paging systems in the early 1990s. Later that decade, I set up a company with less than AU$800,000 (US$632,000) and grew it into a company worth AU$40 million (US$31 million) in 18 months. I was one of the first Asian CEO's to lead an Australian public company, so I'm very proud.
About William Tien:

Willian Tien is founder and CEO of TiENPAY, a Hong Kong-based fintech company focused on developing a global mobile wallet clearance and settlement system. Before that, he founded Alpha Auctus Pty Ltd. and Alpha Wealth Financial Services Pty Ltd. In 1998, He founded Timemac Solutions Ltd., a company that was listed on the Australian Stock Exchange.