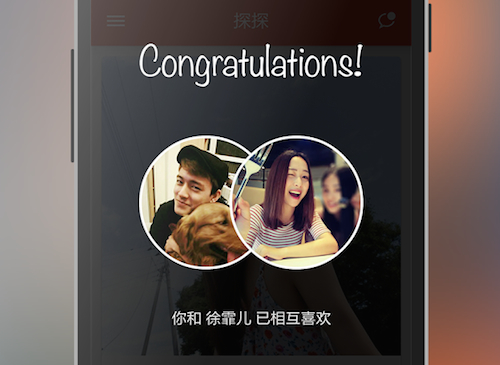 Momo Inc., a NASDAQ-listed Chinese mobile social networking platform, today announced that it has agreed to acquire Chinese dating app Tantan Ltd. for US$600.9 million in cash and around 5.3 million newly issued class A ordinary shares.
Momo will acquire 100% of Tantan, meaning Tantan has given up its previous intentions to pursue an initial public offering. It is part of a broader trend as more Chinese start-ups are likely to seek an exit via a strategic sale, rather than an IPO, as a strategic sale offers immediate cash out.
Many start-ups will prefer to be bought out also because their valuations are already at a very high level, and an IPO sometimes may mean a reduction in valuation, experts say. But this is not the case for Tantan, which is reportedly valued at US$735 million in total in the deal and the main reason for Tantan to agree to a sale, according to insiders.
The deal, the largest acquisition Momo has ever done, is expected to close in the second quarter of 2018, subject to customary closing conditions, the firms announced.
Founded in 2014, Tantan works the same way as the U.S. dating platform, which utilizes a location-based social search mobile app that facilitates communication between mutually interested users.
"Our core position will continue to center on social networking and this acquisition enriches our product line in the social space. We will continue to invest and incubate more sub-brands to serve the social and entertainment needs of different demographics," said Yan Tang, Chairman and CEO of Momo.
In June 2017, Tantan reportedly raised US$70 million series D round led by Chinese online social entertainment firm YY Inc. In 2016, Tantan completed a US$32 million series C round of financing led by DST Global, Vision Plus Capital and LB Investment.
Momo had 94.4 million active users as of last September. Tantan had total registered users of 90 million and daily active users of six million last June.