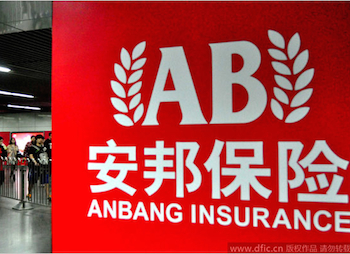 Singapore's Temasek Holdings Private Limited is said to be in talks with Chinese authorities on the acquisition of Anbang Insurance Group Co. and some of its assets, according to a Bloomberg's report citing people familiar with the matter.
Temasek, Singapore's US$308 billion-under-management sovereign wealth fund, has been working on a potential transaction for several months, but currently no substantive negotiation has been made, according to the report.
Nearly eight months ago, Chinese regulator temporarily took over Anbang after Anbang's former chairman Wu Xiaohui was imprisoned for fundraising fraud and corruption.
China Insurance Investment has infused about RMB60.8 billion earlier to Anbang and holds 98.23% of Anbang, according to an announcement of China Banking Regulatory Commission(CBRC).
After Anbang's government takeover, it was still facing liquidity challenges and was planning to sell 15 overseas hotels worth a total of US$5.5 billion in August 2018.
In order to make Anbang continue to operate as a private enterprise, new investors are needed to take over government shareholding.
The interest of Temasek and China Insurance Investment indicates China's efforts to find strategic investors for Anbang.
"We do not comment on market speculations or rumors," Temasek said in an emailed statement.
Temasek has made a number of investments in the Chinese banking industry. Its interests include stakes in Industrial & Commercial Bank of China Ltd., China Construction Bank Corp., Ping An Insurance (Group) Co. and Bank of China Ltd., according to Bloomberg data.