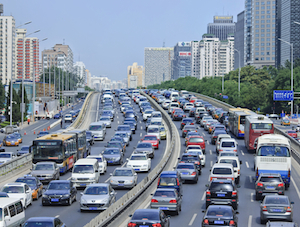 Global alternative asset firm TPG and CICC Capital, the private equity arm of investment management firm China International Capital Corporation (CICC), have signed an agreement to jointly launch an investment platform to target investment opportunities in China, said CICC in a statement released on Thursday.
The investment vehicle, named "China Synergy platform," is set up with a USD/RMB dual-currency structure to earn return from "the key trends in the Chinese economy," said CICC.
Specifically speaking, the investment platform is designed to carry out cross-border investments globally, with a specific focus on China. Leveraging the cross-border investment capabilities of the two parties, the platform plans to assist non-Chinese companies expand into the Chinese market and Chinese companies to grow with global support, according to the statement.
The two companies did not immediately respond to China Money Network's email inquiries for more detailed information about the investment vehicle.
"This represents a powerful opportunity for TPG to expand our presence in the country. The platform is complementary to our existing business, and it is a solid step in our journey to build on our offerings to fast-growing Chinese companies at all stages," said Tim Dattels, co-managing partner of TPG Capital Asia, in the statement.
Wei Ding, CEO of CICC Capital, said: "Through this platform, we aim to help Chinese companies develop core competitiveness through integrating global resources, at the same time, zeroing in on emerging areas in China's industrial transformation."
TPG, founded in 1992 with over US$103 billion of assets under management (AUM), is increasingly focusing on investments that can benefit from China-related cooperation. The company's US$2 billion worth fund, the Rise Fund, led a nearly RMB1 billion (US$140 million) series C equity financing round in Chinese rural microfinance provider CFPA Microfinance Management in November 2018.
With a total of RMB300 billion in AUM, CICC Capital teamed up with China's education services provider Minsheng Education Group to set up a RMB10 billion (US$1.45 billion) merger and acquisition fund on January 2, 2019.