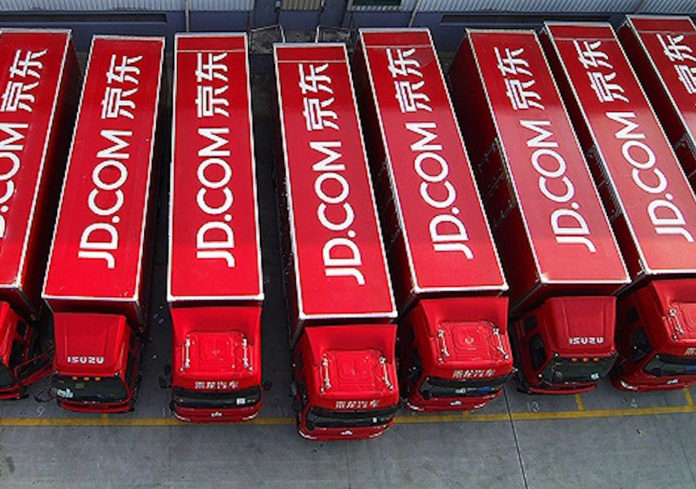 A wholly-owned subsidiary of JD Logistics, the logistics arm of Chinese e-commerce giant JD.com, has inked a strategic investment agreement to pour RMB376 million (US$54.76 million) into the country's logistics firm Xinning Logistics, according to a statement on late Monday.
The two companies plan to forge deep cooperation in areas like the internet of vehicles (IoV), the internet of things (IoT), intelligent warehousing, and supply chain solutions, said Xinning Logistics in a document filed with the stock exchange. Xinning Logistics was among the first batch of firms started trading on ChiNext, a Nasdaq-style board of the Shenzhen Stock Exchange, in October 2009.
Xinning Logistics, formally known as Jiangsu Xinning Modern Logistics Co Ltd, was founded in 1997. The company started with providing the import and export bonded goods storage service for electronic components, and then developed to deliver supply chain integration solutions for companies in home appliances and consumer goods industries.
The company acquired Guangzhou eTrans Transportation Information Co Ltd in 2015, after which it extended its businesses to cover a wider scope including the IoV, new energy car rental service, cross-border e-commerce, and chemical logistics. The company said it has nearly 3,000 employees, among which are over 700 staff working for the research and development, and technical services team.
The transaction comes as JD.com recorded RMB3.7 billion (US$538.01 million) in technology and content expenses in the first quarter of 2019, up 54% from RMB2.4 billion (US$349.05 million) in the first quarter of 2018 as a result of the company's continued investment in research and development talent and technology infrastructure.
As part of JD Logistics' efforts to transfer itself into a smart logistics company, the company launched a rotating package handling system designed for frozen storage at its Wuhan Asia No.1 warehouse in the first quarter of 2019. The company also introduced its self-developed visual recognition batch scanning system in March to improve efficiency and accuracy at the warehouse's receiving station.
JD Logistics secured US$2.5 in a funding round from investors including Hillhouse Capital, Sequoia China, China Merchants Group, and Tencent in February 2018 to reach a valuation of about US$13.5 billion.