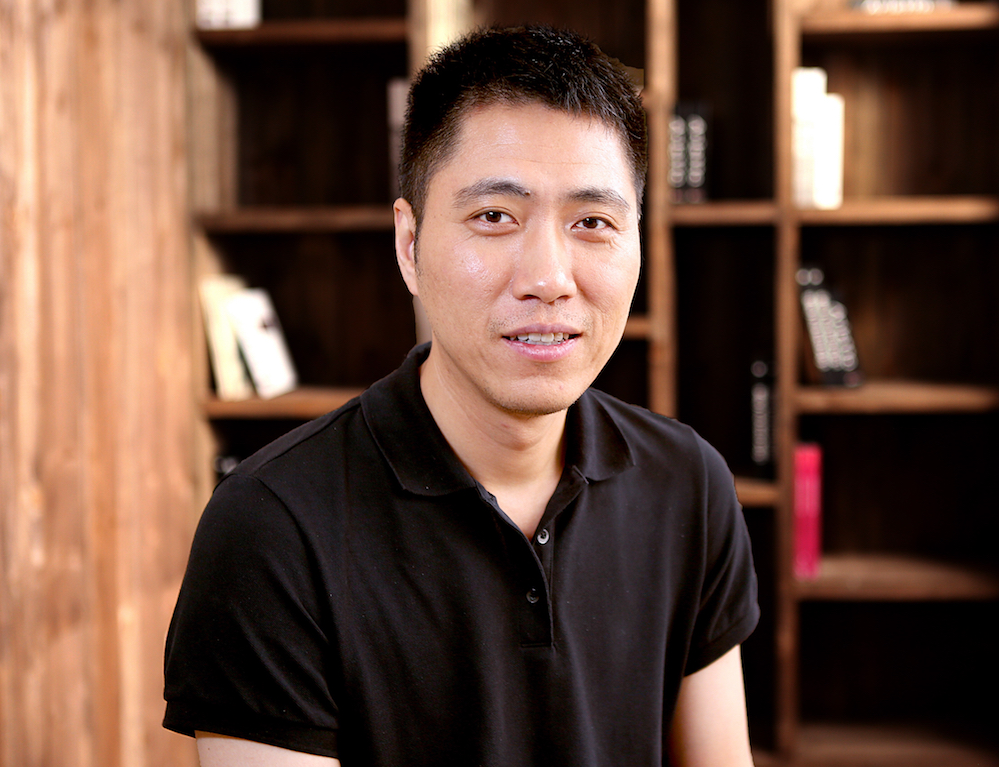 Since an early age, Wang Jun has been fascinated with the fundamental philosophical question: What is life?
The ex-CEO of Chinese genome sequencing giant BGI and founder of China's highest-valued precision health start-up iCarbonX now aims to help people answer that question for themselves.
Wang entered Peking University, China's top university, at the age of 16 after achieving the highest college entrance exam score in his hometown of Dongtai county, in Jiangsu province.
During the early 1990s, he pursued his interest in the fundamentals of intelligent life by studying artificial intelligence. In one experiment, he discovered that computers could actually figure out how a lady beetle maneuvers to catch food, exactly like it does in real life.
Watch A Video As iCarbonX's Wang Jun Chats With China Money Network:

But working at the dawn of the personalized computer era, it became clear to Wang that computers could not think like a human – at least not yet – with the kind of computer powers and digital data available back then.
So Wang, born in 1976, turned his attention to another potential golden key to unlocking the secrets of life: Genomes. In 1999, after having studied artificial intelligence, computer science and biophysics, he participated in founding BGI, which represented China's contribution to the US$3 billion Human Genome Project.
While at BGI, Wang managed three rounds of fundraising of about US$1 billion and led the company's acquisition of a U.S. public company, Complete Genomics. He continued scientific research by participating in the effort to sequence and analyze the rice genome and the SARS (Severe Acute Respiratory Syndrome) virus.
He left BGI in 2015 (though he remains a board member and shareholder) to start iCarbonX because he believes genes alone can't decode life. "If I eat more, I become fat. If I run marathons, the body reacts differently. But my genome remains the same," he said.
iCarbonX's goal is to help people understand and manage their lives better by combining genomics with every other health factor, including metabolites, bacteria and lifestyle choices, to create a digitalized form of life, an avatar or sorts, for everyone willing to pay at least US$30 for a basic product or much more for advanced solutions.
"I can use this digitalized form of me to see how my body will react to a cup of coffee (or a drug or daily exercises), for example," he explained.
To date, iCarbonX has invested US$400 million in seven companies to form a Digital Life Alliance, an information ecosystem designed to fulfill Wang's vision.
Fives U.S. companies, SomaLogic, HealthTell, PatientsLikeMe, AOBiome, GALT, one Israeli company Imagu Vision and Chinese firm Tianjin Robustnique Corporation Ltd. each bring core technologies such as protein biomarker discovery, bacterial therapy and immunosignaturing to the alliance.
iCarbonX is also launching its first product, a digital health management platform named Meum. It will provide different levels of life data and dozens of applications to users for better control of their well-being.
With Chinese technology giant Tencent Holdongs Ltd. being iCarbonX's major investor, the company is also developing a product that will be available to over 800 million active users of Tencent's immensely popular Wechat app, Wang said.
Wang's belief in the life-technology interface go beyond commercial concerns. He's convinced that a digitalized form of individuals could ultimately be able to live on in silicon form even after their carbon-based human bodies perish. He has declared such ambitions many times, openly and privately.
It is too early to speculate on that, but there is at least one problem Wang faces trying to fulfill iCarbonX's commercial promise. The start-up achieved a US$1 billion valuation in a short six-months after being established, making it the fastest technology unicorn in the world.
Even if Wang argues that iCarbonX is at its lowest valuation ever, he needs to figure out how much people will be willing to pay for that service, and how effectively a digitalized life could really alter human behavior.
Wang, for example, worked for 36 hours straight for the SARS virus sequencing project and "many many other times," he said. Would seeing how his digitalized life suffers from those long hours of work stop him? Probably not.
To learn more, read on to a Q&A of our conversation. Don't forget to subscribe to China Money Podcast for free in the iTunes store, or subscribe to China Money Network weekly newsletters.
You can also subscribe to China Money Podcast's Youtube channel or Youku channel.
Q: Did you realize that iCarbonX is the company that became a unicorn faster than any other company in the world?
A: No, I didn't realize it. Becoming a unicorn is not really my goal. We established the company to do something good for society, to digitize people's lives, and to help people manage their lives. This (valuation) is pressure, because it means people believe we can make great achievements in the future.
Q: Let's go back in history a bit. You studied biophysics at Peking University. When did you discover your interest in life sciences?
A: Actually, I majored in artificial intelligence for my undergraduate studies. I co-founded BGI while I was still in my PhD program. At that time, the University did not have a major called genomics, so I eventually got a degree in biophysics.
Q: You are ahead of the curve, because people back in the 1990s were not thinking about artificial intelligence. What did you study in artificial intelligence during your undergraduate years?
A: At that time, it was the starting point of personal computers. People were getting their own desktops. I was doing a lot of interesting research on neural networks, basically whether a computer can think on its own, instead of being told what to do.
The first project in my undergraduate program was to study how a lady beetle catches food. (Our computerized) moving strategy turned out to be almost exactly the same as the evolutionary result in the real world. It showed the artificial intelligence system can actually make a computer think.
With my multiple backgrounds in computer science, biology and mathematics, it was a natural conversion for me to start thinking if a machine can think like a human. But then, I soon realized that it was much more difficult than I thought. The computer power was not enough, data was lacking, and we don't really know enough about how humans.
That was part of the reason for the human genome project. If life was a program, you need to decode it. That was also the reason why we co-founded BGI.
Q: You were also involved in the genetic sequencing of panda, rice, cucumber and the SARS (Severe acute respiratory syndrome) virus. What was the most memorable experience of your involvement in the SARS project in 2003?
A: We spent something like 36 hours to decode the virus genomes and built the first diagnosis kit based on it. We donated 300,000 kits to hospitals to allow them to do the correct diagnosis based on the genomes, not just diagnosing with body temperature or other symptoms.
Q: Did you work 36 hours straight?
A: Well, I worked 36 hours straight for many, many projects, not just the SARS project.
Q: Why did you leave BGI to start iCarbonX last year?